Since I'm a graphic designer, some people expect me to design everything myself, and I kind of feel like I should. But, I don't. After staring at InDesign all day, sometimes I don't want to bother with it anymore at home. I didn't make a header for this blog until very recently, our digital save the dates were a template from theknot.com, and I bought our wedding thank you cards from Target. Yep, I'm kind of a DIY failure sometimes.
After looking at the card designs on Shutterfly, I kind of wish I'd been a little less lazy with my thank you cards.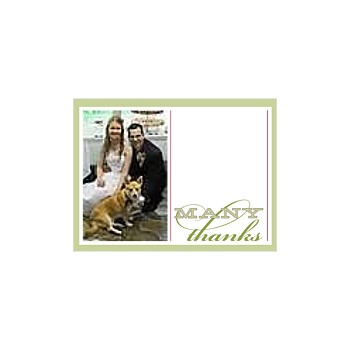 Sweet And Retro Holiday Thank You Card
All I did was drop a photo into this card. It's a Christmas thank you card, but the red and light green are about the same colors as Nathan's boutonniere and match well. I like the simplicity of the design - two nice fonts and some lines. It doesn't have any fake 3D effects or wild colors. The only thing I don't like is that it's a stationary card, not a folding card. The writing space would be a little limited, unless you wrote on the back too.
I think this card would be appropriate as a thank you for both wedding and Christmas gifts. What do you think?
Disclaimer: These views are entirely my own. Shutterfly is a life saver, or at least a photo saver. After my hard drive went bad, I lost all my photos from my trip to the UK, but since I had uploaded them to Shutterfly, I was able to get them all back by ordering a photo CD.